I discovered podcasts a number of years ago but never really got into them until quite recently. With the iPhone (or Android equivalent) there are podcasting apps that will allow you to curate the best podcasts for your interests
Being a writer and actor I like to deal with things related to scriptwriting. This manifests itself as listening to two main podcasts and a number of smaller ones.
Scriptnotes:
A podcast about screenwriting and things that are interesting to screenwriters. Hosted by
John August
and
Craig Mazin
. This always has interesting topics which are well handled. Craig takes a bit of time getting used to. He is most certainly of the '
I am absolutely write and you are absolutely wrong
' brigade. If you don't like that (or umbrage) don't listen.
Nerdists writers panel:
Hosted by Ben Blacker (a TV writer himself). He interviews writers in the TV industry. Usually people who have been staffed on, or are show runners for, current TV shows. Born froma desire to know more about how people got started, how they work and what advice they can give writers. nothing like this existed so he created it.
Children of Tendu:
Infrequently updated but always informative. Hosted by two very experienced TV writers: Javier Grillo-Marxuach and Jose Molina who have over 40 years of industry experience between them.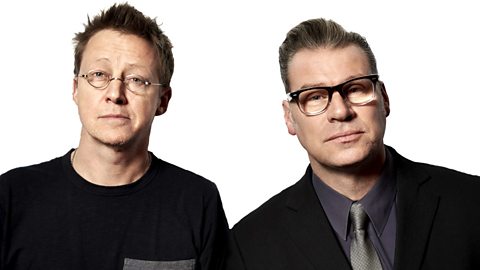 Wittertainment:
Film review podcast hosted by Simon Mayo and Mark Kermode. The podcast is from the BBC Radio 5 Live show which goes out every Friday (usually) for 2 hours. Prior to the show being broadcast the 2 hosts tend to record some podcast content which is then continued after the show has finished. The best bits of the show are usually at this point.
Wittertainment has its own
Witterpedia
where you can follow along with a lot of the in-jokes and references (Mr Flappy Hands, for example).
Film critique and banter that work well together. The podcast is the radio show from BBC Radio 5 live coupled with additional bits recorded before and after the show.
I also listen to certain esoteric items such as the
Freakonomics podcast
(
The podcast that expires the hidden side of everything
). This is a really interesting podcast which takes everyday items and looks at them from an economics point of view. For example did you know that Sweden is the largest purchaser of Tesla vehicles outside the US? Want to know any? Listen to the podcast.
Kevin Pollak has a
chat show
he records (and live streams) from the West Side comedy theatre in LA. He invites guests from the comedy scene (both stand up and film/tv) and they chat for an hour or two about their careers. Variable audio quality on the feed but very, very interesting and amusing. Hearing Dana Carvey do his Lennon/McCartney discussing Kanye West skit is priceless by itself.
In my life podcasts are brilliant for listening two under two circumstances:
1 When I'm trying to clean the house or do chores. A bit of Wittertainment will wile away an hour or two of vacuuming and dusting,
2 When I'm doing an early morning drive to work. Kevin Pollak is very useful for listening to in the car when I'm travelling on an early call (say, 4.30am) from the rural place where I live back into civilisation. I recently did a five day shoot on a production based on an old Len Deighton novel and this involved a 2 hour commute each way. I got through quite a lot of podcasts on that shoot, as you can imagine!
What podcasts do you tend to listen to? Any ones you would advise me to try?